Andrew Gillum, the Democratic candidate for Florida governor, may be  running a close and highly anticipated race against Republican Ron DeSantis—but when it comes to quick thinking, he has his opponent beat by a mile.
Gillum is the mayor of Tallahassee, a husband, a father of three, a FAMU grad—and on the verge of making history as the Sunshine State's first Black governor. Yet, Black Twitter first noticed how masterful his propensity for shade was after he responded to an insulting Trump tweet back in August.
When the president took a swipe at him—in a bid to make the opposing GOP candidate look good—instead of "turning the other cheek," Gillum clapped back so succinctly social media immediately broke out in applause.
READ MORE: Revisionist History: Why Black people need to realize John McCain was more like Donald Trump than anyone will ever want to admit
What our state and country needs is decency, hope, and leadership. If you agree, join us at https://t.co/fm0ODFFGWU. Also, @ me next time, @realDonaldTrump. https://t.co/59dQy8RLsm

— Andrew Gillum (@AndrewGillum) August 29, 2018
So it should come as no surprise that this week's debates, have become yet another opportunity for the 39-year-old to showcase the same grace under fire, and toss out quotable one-liners.
Below, are our favorite shade-throwing moments that left viewers chuckling:
Chin-checking FOX News while discussing the NRA
Given that Gillum's showmanship has gotten as much press as his policies these last few months, DeSantis attempted to take a preemptive strike by characterizing Gillum as a "failed mayor" who presides over a "crime-ridden" city, during his opening speech.
But from the smirk on Gillum's face as DeSantis spoke, you could already tell that he was prepared to respectfully, go "awf" for the next hour.
During a segment on gun control, DeSantis was asked why he would have vetoed legislation signed by Fla. Gov. Rick Scott after the Parkland school shooting. He tried to sidestep the issue, and instead assured gun supporters that he planned to "work with law enforcement" to keep the bad guys off the streets.
Gillum, annoyed by how the question wasn't really answered, decided to answer on DeSantis behalf when it was his turns to speak.
"The congressman was against that piece of legislation because he's wholly owned by the NRA," he clarified to the audience. "He's not gonna stand up to the national rifle association. That's why they're running all these ads against me, because they want the man that they bought."
That feeling when someone shows you who they really are… pic.twitter.com/EpqpCoD5va

— Andrew Gillum (@AndrewGillum) October 25, 2018
When DeSantis attempted to discredit the remarks, Gillum said he was acting like his buddy "Don," (his nickname for president Donald Trump) and "neglecting all reason and facts."
"I preside over a city that is experiencing a five-year low in our crime rate, on trajectory to be at a 20-year low in our crime rate," he said in defense of Tallahassee.
"This is CNN, not FOX," he informed the GOP candidate. "You have to bring facts to the conversation."
CNN appreciated the petty shout out so much, they turned it into a promo clip, as part of their "facts first" campaign.
CNN now using Democratic Florida gubernatorial nominee Andrew Gillum's swipe at Fox News as a 'Facts First' TV ad pic.twitter.com/76FnvI9lM8

— Justin Baragona (@justinbaragona) October 23, 2018
Quoting Jay-Z's "99 Problems"
Speaking of receipts, pretty early on DeSantis accused Gillum of lying about the source of a high-priced Hamilton theater ticket given to him by an undercover FBI agent back in 2016.
With all the real issues facing Florida, this has somehow become a point of contention within the broader scope of a federal corruption investigation that has dogged Gillum, despite his insistence that the FBI informed him he wasn't a target.
For the umpteenth time, the governor explained that his brother, Marcus Gillum, had given him the ticket, but also acknowledged that he should have asked more questions about where they came from.
"I arrived at the theater and received my ticket from my brother," Gillum said. "The problem that I have is that I should have asked more questions to make sure that everything that had transpired was above board."
In the midst of this clarification though, he pulled out a page from Barack Obama's playbook and quoted Jay-Z. The reference most likely went over DeSantis' head but spectators were audibly tickled.
I'm running for Governor of Florida. We've got 99 problems, and trust me, Hamilton ain't one of them. Time for us to focus on the issues facing everyday Floridians. #BringItHome #FLGovDebate pic.twitter.com/Ozll4w3DCp

— Andrew Gillum (@AndrewGillum) October 24, 2018
A hit dog will holler
Arguably one of the most viral moments Wednesday evening occurred when Gillum called out his opponent for fraternizing with racists.
While discussing DeSantis' decision to speak at questionable conferences hosted by David Horowitz, an anti-Muslim conservative political activist, the Democratic candidate was clearly in his zone, with his one liners locked and loaded.
"My grandmother used to say, 'A hit dog will holler,' and it hollered through this room," Gillum said after DeSantis vehemently denied being in cahoots with Horowitz.
As my grandmother used to say — a hit dog will holler. pic.twitter.com/kC34Ldd0is

— Andrew Gillum (@AndrewGillum) October 25, 2018
"First of all, he's got neo-Nazis helping him out in this state," he continued, referring to a white supremacist group that is running racist robo-calls against Gillum.
"Now, I'm not calling Mr. DeSantis a racist, I'm simply saying the racists believe he's a racist," Gillum said.
While the debate audience loudly cheered during this response, they had the complete opposite reaction to DeSantis earlier in the evening and at times straight up BOO'd at him as he tried to suggest he was unaware of Horowitz's racist past.
"How the hell am I supposed to know every single statement someone makes?" DeSantis asked rhetorically, before pivoting to attack the press with, "I am not going to bow down to the altar of media correctness!"
Ron DeSantis imploding was the best part of the debate for Andrew Gillum's face alone. pic.twitter.com/1bfCeBx6Se

— Ryan Day (@ryaneatscake) October 25, 2018
Addressing "Monkey this up" comments
When debate moderator Todd McDermott asked DeSantis what he has to say to voters who are concerned about his racial tolerance, he pledged to look out for all Floridians regardless of their color, then pointed to his military service and time as a federal prosecutor as proof that he was color blind.
"That was a clever attempt to get away from the fact that Mr. DeSantis himself used to moderate a xenophobic, racist Facebook page," Gillum said.
"That is not true," DeSantis interjected.
"It is in fact true," Gillum doubled down. "Then you lied and said, 'I don't even do social media' AFTER you got caught," Gillum continued as the moderator attempted to cut short the laser sharp tongue lashing he was clearly prepared to keep giving.
YIKES.
This is one of those moments when you almost start to feel bad for the villain in the movie because he's getting his butt kicked so mercilessly by the hero.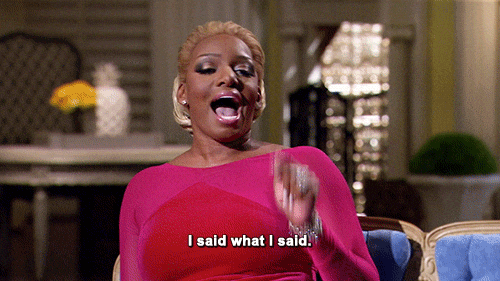 DeSantis actually started to sweat and looked like he was mildly on the verge of tears as Gillum gave him the "I said what I said!" head roll straight out of an episode of Real Housewives of Atlanta. 
Nene Leakes would've been proud.
And when DeSantis finally found his voice and attempted a rebuttal, Gillum casually responded, "Chile, that 'monkey up' comment said it all."
Ok.. he didn't actually say the word "Chile" but it was very clearly implied in his barely contained eye roll.
BREAKING!! @andrewgillum has been Black all his life. ??‍♀️| ?: @Groovy_Gene pic.twitter.com/7FiTAER9HV

— Cousin Angela (@angela_rye) October 24, 2018
During a recent appearance on MSNBC's Morning Joe, Mike Barnicle told the cohosts that this week's debates have been an "impressive performance by Andrew Gillum."
This sentiment is shared by people on both sides of the aisle. And sheer entertainment value aside, that performance really does encapsulate why a man who was seen as a long shot just a few months ago, is now 12 points ahead of his heavily funded "politics as usual" opponent.
READ MORE: Is Andrew Gillum the 'Woke Obama' we've all been waiting for?
Florida's election is in 12 days, and as his newest campaign ad states, Gillum is clearly ready to #BringItHome.
12 days to #BringItHome. pic.twitter.com/3j8pMKmYj2

— Andrew Gillum (@AndrewGillum) October 25, 2018
Follow writer Blue Telusma on Instagram at @bluecentric