#BeGone: Melania Trump is bringing her 'Be Best' foolishness to Africa
The first lady announced Wednesday that she plans to visit Ghana, Malawi, Kenya and Egypt next week.
U.S. first lady Melania Trump speaks in the Rose Garden of the White House (Photo by Win McNamee/Getty Images)
Melania Trump is bringing her #BeBest foolishness to Africa, and there's nothing we can do about it.
Wednesday, the first lady announced that she would be visiting Ghana, Malawi, Kenya and Egypt next week, kicking off her first major international solo trip to promote child welfare and education.
While her need to get as far away from her husband as possible is understandable, one can't help but feel sympathy for the four African nations that will have to smile politely while she stiffly reads from cue cards during her appearances.
READ MORE: WATCH: See what Black folks have to say about the sexual allegations against Supreme Court nominee, Judge Brett Kavanaugh
Trump, 48, made the announcement at a reception welcoming spouses of visiting heads of state and other foreign delegations on the sidelines of the UN General Assembly.
"October 1 will mark the first day of my solo visit to four beautiful and very different countries in Africa: Ghana, Malawi, Kenya and Egypt," she said.
She explained that those countries had worked alongside the US Agency for International Development, with whom she has been organizing her trip, and that they were all committed in making "great progress in overcoming some of their biggest challenges."
But one can't help but wonder how the organizers – in Kenya specifically – really feel about her impending arrival, given that her family has spent the last several years directly attacking the legacy of one of their most popular countrymen, Former President Barack Obama.
READ MORE: Issa Rae claps back when Melania Trump's team says FLOTUS likes 'Insecure'
Trump also gushed about how excited she is to take her grammatically incorrect "Be Best," initiative to the continent, which she set up with the goal of focusing on children's well-being, as well as social media use and opioid abuse.
"I am so proud of the work this administration is doing through USAID and others, and look forward to the opportunity to take the message of my Be Best campaign to many of the countries and children throughout Africa," she added.
"Whether it is education, drug addiction, hunger, online safety or bullying, poverty or disease, it is too often children who are hit first and hardest across the globe."
So basically, the woman married to one of the world's most vocal bullies, wants to hop on a plane just so she can tell Black nations not to act exactly like him.
Got it.
The irony runs deep on this one fam. Super deep.
And what's worse is, the first ladies of Ghana, Kenya and Malawi were all obligated to attend this sham of a reception, as did the wives of US Vice President Mike Pence and Secretary of State Mike Pompeo. Sara Netanyahu, the wife of the Israeli prime minister, was also there.
They all watched in thinly veiled disdain as Trump thanked the first ladies in attendance and told them how much she was looking forward to visiting their countries. But what she didn't share is exactly how long she was planning to stay, further fueling the speculation that our girl Melania is lowkey trying to run away from home and into the arms of Black women who have too much home training (and political savvy) to tell her to "GTFOH."
But we can all imagine what their faces will look like the whole time she's there.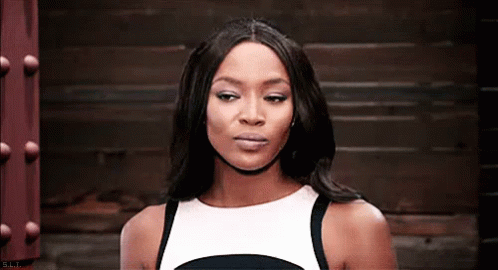 READ MORE:
"Each of us hails from a country with its own unique challenges, but I know in my heart we are united by our commitment to raising the next generation to be happy, healthy and morally responsible adults," Trump concluded.
That same day Donald Trump backed up his wife's announcement, saying "we both love Africa. Africa is so beautiful."
And by "love" he means: he has yet to travel there while in office, and started off 2018 by allegedly disparaging "sh**hole" countries on the continent.
https://twitter.com/Toure/status/1044954033428066305
Follow writer Blue Telusma on Instagram at @bluecentric