I'm sick of Roseanne Barr and by this point, so are most people who aren't employed by her and/or didn't vote for Trump.
When ABC Entertainment president Channing Dungey fired Barr for her malicious tweets suggesting that former Barack Obama adviser Valerie Jarrett is an ape, we all rejoiced.
"Roseanne's Twitter statement is abhorrent, repugnant and inconsistent with our values, and we have decided to cancel her show," Dungey said in a statement. Leading many to wonder why the comedienne would say something so racist while a Black woman signs her checks.
READ MORE: 'Dancing doctor' says patients approved music videos showing procedures
And Jarrett, who could not have been blamed for reading Barr for filth after what she did, even decided to take the high road when asked about the offensive tweets during a subsequent appearance on an MSNBC town hall.
"I think we have to turn it into a teaching moment," Jarrett said "I'm fine. I'm worried about all the people out there who don't have a circle of friends and followers who come right to their defense–the person who's walking down the street minding their own business and they see somebody cling to their purse or walk across the street. Or every black parent I know who has a boy who has to sit down and have a conversation, 'the talk' as we call it. Those ordinary examples of racism that happen every single day."
So it seemed like all was well in the world, Black women had once again saved the day while the nazi-sympathizing, MAGA loving, conspiracy theorist was left to her own devices to go howl at the moon and disappear into obscurity.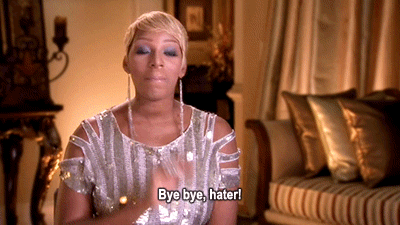 A 'Roseanne' Spin-Off Sans Rosanne
But alas, ratings.
No sooner had we applauded ABC for giving up their ratings powerhouse for the sake taking the moral high ground, when suddenly news arrived that the powers that be had figured out a way to make back their coins and still capitalize on Barr's fanbase.
According to The Hollywood Reporter this week ABC greenlit The Conners, a 10-episode spinoff that will feature the same family (minus Barr) and set to premiere in the fall.
THR reports the sitcom will follow the daily struggles and shenanigans of the Conner family who, after a sudden turn of events, are forced to juggle life in ways they never have before.
The show will star basically everyone but Barr and ABC stressed during its announcement on Thursday that she would have nothing to do with the new show, financially or creatively.
Barr will retain rights to the Roseanne Conner character – only. Nothing else.
"I regret the circumstances that have caused me to be removed from Roseanne," she said in a statement published by THR. "I agreed to the settlement order that 200 jobs of beloved cast and crew could be saved, and I wish the best for everyone."
Side-Eye at the Ready
I'm not naive and objectively see why this was done. Because the truth is there really are several hundred innocent people whose jobs were on the line for their bosses problematic antics.
But a part of me is still cautious about applauding anything with the stench of Roseanne on it. Her tweets weren't the only issue. The jokes on the reboot of her show were ignorant, divisive, and primitive as well.
Let't not forget that horrible Muslim neighbor episode where they tried to cram in every cheap terrorist joke possible in 22 minutes. At some points I literally groaned out loud while watching it!
READ MORE: How Roseanne's hot-garbage Muslim neighbor episode proves she has a "white messiah" complex
What ABC has already shown is that when it comes to money vs morality – money will always (ultimately) win. Which is understandable to a certain degree. But if The Conners are just as racist and basic as their missing matriarch, we may have all rejoiced about the cancellation of the Roseanne show a bit prematurely.
A turd by any other name, still stinks.
Not gonna lie though, I may end up watching the first episode of The Conners this fall, just to see how they kill off the elephant in the room. #SorryNotSorry
Follow writer Blue Telusma on Instagram at @bluecentric