'She can't be darker than me': Reality show highlights our never-ending lesson in colorism
The Black aesthetic is trendy while actually being a Black woman... not so much.
Light skin vs. dark skin and our never ending hyper-focus around colorism. We just need to affirm that our Black really is beautiful. (Courtesy of Fotolia)
Earlier this month, Lifetime's "meet you at the alter" reality show Married At First Sight ruffled more than a few feathers when they aired a casting special showing behind the scenes interviews between their panel of experts and the singles looking for their forever soulmates on reality TV.
During one segment, a Black man named Tristan Thompson (strike one), made a joke about how he didn't want to be paired up with any woman who was "one biscuit short of 350lbs" (strike two), and THEN said that he would never want to marry a woman darker than his own butterscotch coloring (strike three).
"I really don't prefer women that are darker than me," he said. "When it comes to marriage you've gotta be with someone that melts your butter."
READ MORE: Defending Misogynoir: Why Angela Rye's tone deaf defense of Charlamagne was a BAD look
To add insult to injury, he said this to Pastor Calvin Roberson, a Black man who is also one of the show's experts and who actually likes Black women. Pastor Roberson very vocally suggested that Thompson was too "shallow" to have the type of healthy marriage the show supposedly promotes.
These were all great points, but ultimately the two other experts (both white women) overruled Roberson, then flippantly suggested that they just find him a woman he actually finds attractive and keep it moving.
While Black Twitter understandably flipped out during the airing of the show to express how ignorant Thompson's statements were, I found myself wondering one thing.
Why did they even air that scene?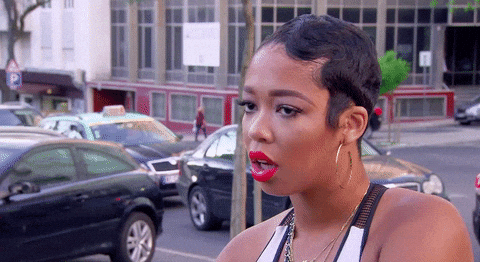 This isn't the first time I've seen this show air content like this which serves no purpose to the essential story line, but is seemingly left in to be provocative.
During the third season's casting special, the show moved it's search to Atlanta, where the experts declared on national television that they had a really hard time finding a single Black man (in all of Atlanta!) that wanted to be married to a Black woman.
I remember making the confused Scooby Doo sound when they said this, but luckily they apparently found the one Black man in all of Georgia who was willing to couple up with a sister and so I chilled out.
READ MORE: Rihanna hits June Vogue talking body positivity, love, and what motherhood would be like
Now, in season 7 based in Dallas, for the first time ever, a color struck guy was actually chosen despite there being another brother on the short list who was a lot more open minded.
As if this wasn't suspicious enough, during Thompson's wedding, the cameras focused on his slightly panicked face when he walked into the church and saw his in-laws were…dun, dun, dun… dark skinned. Then right after, we see his visible and palpable relief when his light-skinned wife-to-be, who takes after her Indian-Trinidadian father, finally walked down the aisle to greet him.
READ MORE: 10-Year-Old starts anti-bullying 'Flexin' In My Complexion' t-shirt line
Before y'all start, I know how television works. I know that ratings matter and producers will do just about anything to generate a buzz, but when did exploiting colorism for ratings become such a heavy handed thing? And, what petition do I need to sign to make y'all cut that ish out?
Lately there has been a noticeable uptick in viral videos and television shows where outlets have started picking at the scab of a wound that has not fully healed in our community.
READ MORE: Spike Lee directs five short films for Uber to celebrate Brooklyn
Be it house negroes being deemed more worthy of respect than field negroes because they possessed some of massa's blood, or a dude whistling, "Come here redbone!" to an average-looking, light skin woman while ignoring her much prettier (but also much darker) friend, we've never really escaped this narrative. But it's acceptance and trendiness has ebbed and flowed throughout the years.
Blackness vs. the Kardashian effect 
You know how every decade has a "look" and whenever you reference a decade that look is what immediately comes to mind? For the 70s it was bell bottoms and disco glam, in the 80s we had big shoulder pads, even bigger hair and frosty neon colors, and in the 90s everyone was in plaid, Cross Colours, and baggy clothes that would seem matronly now.
As much as many of you will hate to admit this to yourselves, when our kids look back at the 2010s, they will probably conjure up an image of the Kardashians, or at the very least an Instagram model or celebrity doing their best to look like one.
I know this is a bitter pill to swallow, but that doesn't make it any less true. Like it or not, for the first time in our lifetimes, a reality star (or more accurately a whole family of reality stars) have single handedly crafted the prominent visual representation of an entire decade.
Before Kim Kardashian and her merry band of Kardashian siblings, bodycon dresses, thick wavy hair extensions, super bronzed makeup, and cinched waist trainers were only really popular in a few major cities but would get the side-eye anywhere else. Now, you can't even go to Walmart without running into someone who has clearly been influenced by the Kardashian effect.
READ MORE: #CouponCarl, man who called cops on Black woman at CVS, was once busted forgery
Kim is the reason why even the most clueless of men know what "contouring" is and why droves of women keep buying banana powder even if it doesn't match their complexion.
I'm not the hugest Kardashian/Jenner fan, but I'm also not enough of a hater to dismiss their epic and wide reaching influence in setting new beauty standards.
And thanks to their love of the Black aesthetic, these days looking like a watered down facsimile of Black woman is VERY in, while actually being a Black woman… still not so much.
As a result, our kids are ingesting color biases at unprecedented rates, and walking around singing rap lyrics like, "My main girl look like Kylie Jenner!"
Just recently gospel singer Erica Campbell had a painful discussion about this topic with her 13-year old daughter Krista Campbell during an episode of TV One's new reality show, We're The Campbells.
READ MORE: Warryn and Erica Campell share secrets to raising happy kids 
In one scene, Krista tells her mom that when she was in the fifth grade, a few girls at school called her "darkie" and refused to play with her, which had a lasting effect on her self-esteem. At another point in the episode, Krista admits that she's painfully aware that both her complexion and size are the reason why boys never give her a chance.
Even though Erica did her best to console her daughter and dismiss her fears, the young girl's heartbroken comments echo exactly what Tristan Thompson said during the casting special of Married At First Sight, essentially: "no darkies and no fatties."
While some naysayers may point out that this issue has been around for generations and therefore its not that serious, we have to remember two things:
Firstly, while colorism has been around forever, the Internet has not and it's mere existence make all the difference. The world wide web is a double edged sword for Black children because they can be both educated and emotionally damaged in ways we've never seen before.
Also, as I mentioned earlier, content creators have gotten incredibly savvy (and at times unscrupulous) about what narratives they chose to perpetuate. If something is provocative and will illicit a strong reaction from an audience, it will be played up for ratings regardless of how harmful it may be to those consuming it.
An unexpected side effect of the "woke" movement is that Black folks have unwittingly told, not just white America, but also marketers what issues hit them hardest. This was originally done to remove stigma and demand social justice. Except, now it has also created a new playing field that emboldens advertisers to do what they do best — exploit our insecurities.
As soon as natural girls started mixing their own shea butter conditioners and making online forums to discuss their struggles, big brands jumped up to recreate their recipes or just flat out buy out small Black hair care brands with strong followings.
As soon as a hashtag or catchphrase is created and popularized by Black Twitter, it's already being silk screened onto a t-shirt at Forever 21 and H&M. All before the person who actually came up with it can even look up "trademark laws" on Google.
Black culture is being picked like cotton by advertisers and producers seeking to make money off of our intellectual property and cultural identity. And somewhere along the way, they realized, "Black women are our top consumers and they get really mad about this light skin/dark skin thing. Let's play that up more for clickbait."
In the last few years alone I've lost count of how many rappers have made mainstream headlines for declaring they hate being dark skinned and want a woman who is light to dilute their Blackness. Those clips are viral gold, ironicly being shared more by people who hate the sentiments than by those who agree with them.
Just this week, Rapper GloKKnine came under fire after saying he doesn't want any dark-skinned children, a sentiment also shared by Kodak Black, Lil Wayne, and several other rappers who play a part in determining exact what (and who) is cool.
But how is it that women who look just like their mamas got left off their cool list?
What do we tell our daughters?
This issue can seem daunting, especially to those raising Black girls who are grappling to find their footing in a social climate where dark Black men are considered heartthrobs while dark Black women are mostly portrayed as sidekicks and homegirls.
The first thing I would advise is, don't lie to them. In the clip of Erica Campbell speaking to her daughter, her most glaring misstep was her initial attempts to dismiss Krista, telling her she was being silly because the world is full of beautiful dark skinned women.
While her statement is true and I understand a mother's need to protect her child, Krista and all the girls out there who look just like her, are not stupid. When they tell you about their lived experiences, don't push them away with well-meaning, positive cliches about the Kelly Rowlands of the world.
READ MORE: The best #InMyFeelingsChallenge viral videos as Drake's 'Scorpion' album makes history zooming past 1 billion streams
Pain is a masterful teacher, so acknowledge it and then give your child credit for noticing what's really going on around them. Then, and only then, can you truly empower your kid to figure out the best way to navigate the world they live in.
Also, let's stop downplaying how much influence parents and families still have on children. The media isn't the only thing your child is paying attention to.
Recently, actress Gabrielle Union was on a panel discussion at the 2018 Essence Festival in New Orleans, and recalled a conversation she had with her three boys about girls they were interested in. The actress says that when she asked them to show her the girls' Instagram accounts, she realized they all looked the same.
"Literally, probably about 10 girls I looked at had the same light skin, curly hair, tiny waist, butt, boobs — it was the same girl over and over again," said Union.
"So, I asked them to show me the most beautiful chocolate sister they've seen. They say there are none. I was like, 'Why do they get exed out so fast? What is happening in your brain that is causing you to look at these women through a prism that is distorting their actual selves?'"
READ MORE: White parents of two adopted Black children arrested for horrific treatment–they were starved and forced to use a bucket as a toilet
After that discussion, Union took it upon herself to open the young men's eyes to the beauty of brown skin women.
"They don't see the beauty unless it comes from an actress or a supermodel or a video vixen," she explained. "They have to have somebody else tell them that a chocolate woman is attractive for them to believe it."
Union's anecdote highlights the importance of having intentional discussions with children in order to unpack (and supplement) the narrow standards created by the beauty industry.
The people you surround yourself with help shape your internal dialogue (yes even well into your adulthood — this advice isn't just for kids), and if we want to counteract this trend of media hyper-focus around colorism, our best bet is to create even more messaging that says the opposite and affirms that our Black is beautiful.
Real talk, we lit ya'll. Don't let anybody tell you different.
---
Follow writer Blue Telusma on Instagram at @bluecentric