"Ivanka Trump is useless": Michelle Wolf and the (long overdue) age of white women dragging their own
When the stats came out that 53 percent of white women voted for Trump, it probably triggered feelings of anger (and betrayal) in liberal white women.
(L-R) Michelle Wolf, Ivanka Trump and Samantha Bee (Getty Images).
Michelle Wolf is a savage when it comes to calling out her problematic white sisters and I am all the way here for it.
Wolf is just latest in a treasure trove of white women who are highlighting the apathy that exists in their ranks. Earlier this month, the host of Full Frontal, Samantha Bee was criticized for calling "First Daughter-in-Chief," Ivanka Trump a "feckless c—" during a segment on her comedy show about Immigration and Customs Enforcement (ICE) separating children from their parents.
After facing a tidal wave of backlash from conservatives and Trump enthusiasts, Bee eventually apologized for the comment.
READ MORE: (VIDEO) Kim Kardashian on why she was skeptical Trump would free Alice Marie Johnson and why she thanks Ivanka
"I should have known that a potty-mouth insult would be inherently more interesting to them [news media] than juvenile immigration policy," she continued. "I would do anything to help those kids. I hate that this distracted from them. So to them, I am also sorry."
While it's understandable why Bee felt the need to show some sort of remorse and keep her job, her fellow Daily Show alum, Wolf, is now sticking up for the comedian, and defending Bee's original statements.
For those of you who may have been living under a rock, Wolf is the same fearless comic who previously also triggered backlash at the annual White House Correspondence dinner for taking a jab at Sarah Huckabee Sanders.
"I actually really like Sarah. I think she's very resourceful," Wolf said at the time. "She burns facts and then she uses that ash to create a perfect smoky eye. Maybe she's born with it, maybe it's lies. It's probably lies."
Self righteous members of the GOP tried to say she took an inappropriate jab at Sanders' appearance and therefore crossed a line. Anyone with the reading comprehension of a fifth grader could easily see the joke was actually about the Trump policies that the press secretary regularly defends.
READ MORE: No, Michelle Wolf isn't Black, but after her savage takedown at White House Correspondents' Dinner, we'll trade Kanye for her in the racial draft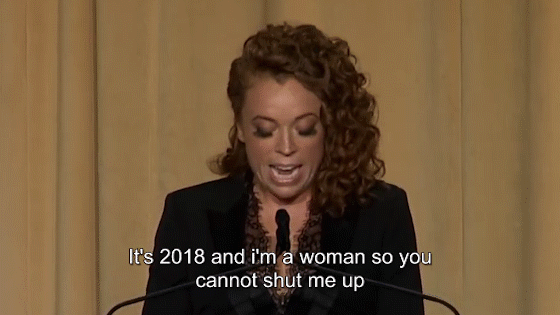 Since that glorious moment Black Twitter has adopted Wolf as one of their own, and her willingness to drag her white sisters when they act a fool has been deeply appreciated by those of us who are sick of having to do it ourselves.
It should also be no surprise that when the topic of Ivanka Trump came up, Wolf held nothing back while defending Bee's statements.
"I would guess that most people don't even know what joke that was in. They probably just saw the headline: 'Samantha Bee calls Ivanka Trump a feckless c—.' They don't know it was a bit about ICE, and they may not even know that Ivanka posted that picture or really so much about that," she said.
"I mean, Ivanka is part of the Trump administration. She's fair game and she is useless. So, I think it's very fair to point out that she's doing a terrible job."
Wolf continued: "She's one of those worst kind of girls. We're all fooled by her because Eric and Don Jr. aren't attractive, and then we pull that, 'Well, she's just a little girl! She's just a pretty little girl.' And that's why you shouldn't underestimate women They'll look like a pretty little girl and they'll steal the children right out from under you."
Ouch.
The Revelation
There's not doubt that Trump, who is a mother herself, winced a bit while reading Wolf's response, but ironically it's her father who is to blame for how mercilessly, she (and other women like her) has become.
When the stats came out that 53 percent of white women voted for Trump, I suspect it triggered feelings of anger (and betrayal) in liberal white women who had previously been unaware of how deeply manipulative and short sighted their conservative counterparts were behind closed doors and private voting booths.
For years, Black feminists have complained that mainstream white feminism often turned a blind eye to the intersections of race and sexism, but it wasn't until the numbers came back from the 2016 elections that the world finally had proof of just how much this unchecked subsection of the population was contributing to the division we're currently experiencing.
Since then, everywhere you look, fed up white women are screaming, "NOT TODAY SUSAN!" whenever they see one of their own showing their asses.
And again – I am ALL the way here for this.
Just look at that woman who became an internet meme sensation after calling the police on a group of Black people in Oakland who were just trying to have an innocent barbecue.
It was a fellow white woman who confronted her, and then followed her for over 20 minutes, documenting her antics which ultimately culminated with her fraudulently sobbing for the police in a performance worthy of at least a Daytime Emmy.
Thanks to that women's service to the cause, Black Twitter had enough hilarious material to last a lifetime. While also highlighting just how shamelessly white female tears are often weaponized against Black people.
READ MORE: BBQ BACKLASH: 15 hilarious memes about crying white woman who called cops on Black family in Oakland park
And even recently you have the likes of A-list actress Jessica Chastain who used her white privilege to tie her salary to fellow actress Octavia Spencer's to ensure Spencer was being paid accordingly for her work.
"I knew women of color got paid less than Caucasian actresses," she said. "What I didn't know is someone of Octavia's level, who had an Oscar and two Oscar nominations, how much less she would be getting paid. When she told me what she was making, that's what really made me go, 'Hold up, that doesn't compute in my brain.'"
Chastain also added, that after she realized how much less Black actresses where getting paid, she found herself caring more about Spencer's pay day than her own.
″… This is the God's honest truth ― I care more about what Octavia's getting paid than what I'm getting paid. Because I've got a great life. I am more concerned about her than I am about me," she said. "Equal pay for equal work!"
The outspoken feminist and equal pay advocate isn't just putting her own money where her mouth is, she's now also calling out other white actresses for not doing the same.
"In an industry that for the longest time had pitted women against each other, it's really important for me and my company to create a space where everyone understands that actually we do better together," the actress turned producer explained to The Hollywood Reporter for the magazine's June cover issue.
"Your silence is your discrimination," Chastain declared. "So if you are succeeding in an environment where there is discrimination, you are actively being discriminatory."
Look, after years of Black women having to constantly push back against the dismissive stereotype of the "angry Black woman" I honestly can't find the words to express how excited I am that angry white women are becoming a growing trend now.
As a powerful collective, they've been silent about the issues of race for long enough, and if they ever expect us to see them as true allies moving forward, we need a lot more of their righteous indignation thrown into these discussions. The sad (and sobering) truth is, in this country, their voices still travel further than ours do, even when we're all saying the exact same thing.
---
Follow writer Blue Telusma on Instagram at @bluecentric